The 2nd Transnational Policy Exchange Workshop organised by the WINTER MED project under the title "Tourism businesses and destinations committed to transversal sustainability" will take place on 30 June 2021, 09:00 – 13:00 Brussels Time.
This workshop will focus on experiences from EU insular as well as coastal destinations and businesses, highly committed to sustainable development.
This exchange will showcase best practices targeted at insular territories and in particular, is meant to serve as inspiration for the Mediterranean Islands destinations of WINTER MED project in the drafting of their Regional Action Plans.
The event will be structured in the following three sessions :
Session 1

on practical examples of destinations that have implemented transversal sustainability plans.

Session 2

on practical examples of companies committed to sustainable practices - why, how and who buys from them?

Session 3

on communication and marketing practices to attract discerning customers to these companies.
The sessions will be followed by a roundtable discussion allowing destinations and companies to share in details how they made these experiences work, the nuances and tricks which can help advance towards sustainable development.

The workshop will be addressed to tourism businesses, destination managers, European, regional and local policy makers, among others, in order to discuss how to embed sustainability in strategies and actions for all-year-round sustainable and responsible tourism development in Mediterranean islands destinations.
Registration is already open here.
The agenda is available below
---
Key speakers from the European Commission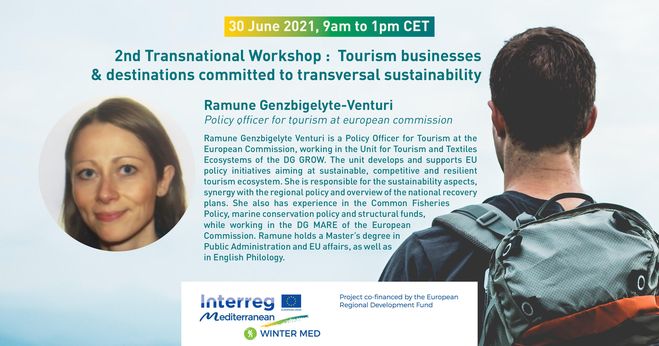 Ms Genzbigelyte will join us during the 2nd Transnational Workshop to share some insights on measures already implemented, the state of play of the Digital Green Certificate and future perspectives on the EU budget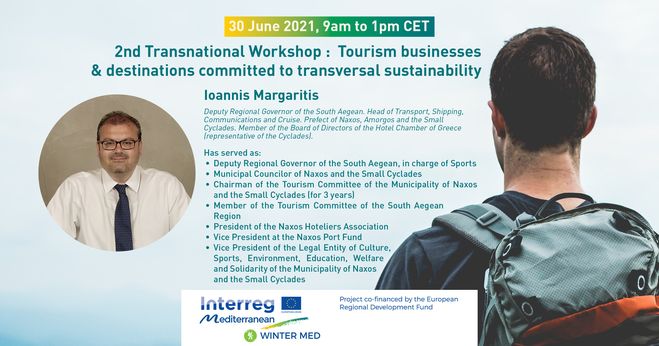 We will be honoured by the presence of Mr Margaritis, who with a broad career in toursim development will address some opening remarks
---