On 31st May the WINTER MED project will hold its Final Project and Capitalisation Event "Shared vision and commitment to year-round sustainable tourism in Mediterranean island destinations and beyond"
The WINTER MED Final Project & Capitalisation Event will be the occasion to share the key results of 3 years of strong cooperation for more responsible and sustainable tourism all year round in Mediterranean Island destinations. The event will be held in a hybrid format, on-site in Rhodes (Greece) and online, and it is co-organised by the Development Agency of South Aegean Region (READ S.A) and the Conference of Peripheral Maritime Regions (CPMR), with the support of the whole WINTER MED partnership.
The aim of this event is to present the main results of the project as well as to invite key high-level actors outside the partnership to exchange views and react to the WINTER MED Policy Paper and its main recommendations. Any interested territory, region, or tourism stakeholder attending the event will be invited to sign the Memorandum of Understanding, committing themselves to acknowledge and implement WINTER MED's Transnational Year-Round Tourism Strategy and disseminate and transfer other project results.
On the same day in the afternoon (14.30h-17h CET) and in the same venue the DestiMED PLUS project on ecotourism in protected areas will hold its Greek National Event. This open event will be the occasion to learn more about the actions that the project has implemented in Greece -in Karpathos & Crete- and the main challenges and opportunities for Greek national and regional Protected Areas. WINTER MED's event participants may also attend this back-to-back event to learn more about the approach developed by the DestiMED PLUS project to measure the impacts of ecotourism, to improve its governance and to achieve greater levels of integration of tourism and conservation policies. The evening will end with a short walking tour in the old Medieval Town of Rhodes.
The event will be followed by a full-day study visit on 1st June for interested in-person participants. This activity will include a visit to the most important tourist attractions of Rhodes (Filerimos, Kallithea Springs, 7 springs, Ancient City of Lindos).
---
High-Level speakers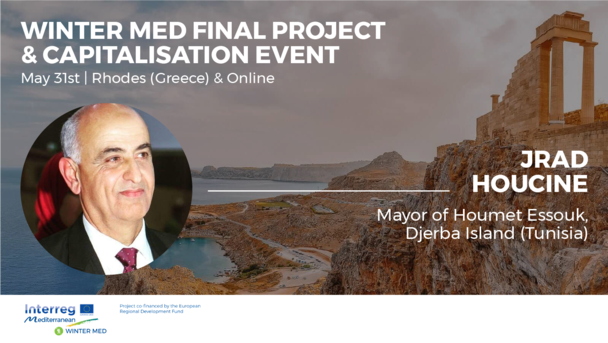 ---